You may have seen our 'It's Your Duty to Care' campaign, which we have shared to raise people's awareness of their Duty of Care, when disposing of household waste – and to highlight the risk of fly-tippers scamming you.
What is your Duty of Care? By law everyone, including householders and businesses, are required to check anyone taking their waste away is officially licenced to do so by Natural Resources Wales.
'Facebook fly-tippers' will pose as legitimate waste removal companies, posting adverts on the market place and in community groups, taking innocent householders' money – only to end up dumping their waste to save on disposal costs. This causes great harm to Wales' natural landscape and puts the householder at risk of a fine.
If your household waste is found fly-tipped, even if you paid to have it removed, you could face a fine of up to £300 if you didn't check for a waste carrier licence.
That's why we have created this guide of six things you can look out for, so you can spot a 'Facebook fly-tipper' before it's too late.
1. Ignore adverts with suspiciously low prices
Legitimate waste removal is worth paying for to protect yourself and your local environment. Scammers will advertise suspiciously low prices on social media sites like Facebook – offering to remove your household waste for much less than most other businesses are quoting, leaving you wondering how they make a profit.
Facebook fly-tippers can charge these low prices because they are not incurring the cost of legally and responsibly disposing of the waste, and they're just looking to make some quick cash. If they fly-tip your waste, you may end up 'paying twice' for fly-tipping as you could face a fine.
To avoid these costly fines, always ask for a waste carrier removal licence number before accepting a quote and check it on the Natural Resources Wales website.
Following these steps means you will be supporting legitimate local waste carriers, who follow the rules and dispose of waste responsibly.
2. Avoid paying cash
Waste operators offering to remove your household waste for cash-in-hand only? This is an immediate red flag.
Fly-tipping is a criminal offence; to make their illegal behaviour less traceable, fly-tippers will often remove your waste for cash in hand payment. When possible, avoid paying cash - pay by card so the payment is traceable, and always ask for a receipt.
3. Suspicious adverts and websites
'Facebook fly-tippers' will often pose as legitimate waste removal operators. If their link takes you to a suspicious looking website full of spelling mistakes, poorly built and designed, or lacking key information such as their waste carrier licence number – you should be wary. If the advert in Facebook also contains very little contact information, don't go any further.
Also, you can check the security of any website by clicking the 'padlock' symbol in the search bar, reading the response, then leave the website if there is a security risk.
Their website could also be mimicking a legitimate waste carrying company's site and company name, so make sure to search around before hiring anyone to remove your waste. You should also be wary when hiring someone to remove your waste from other online marketplace sites such as Gumtree and Yell.com.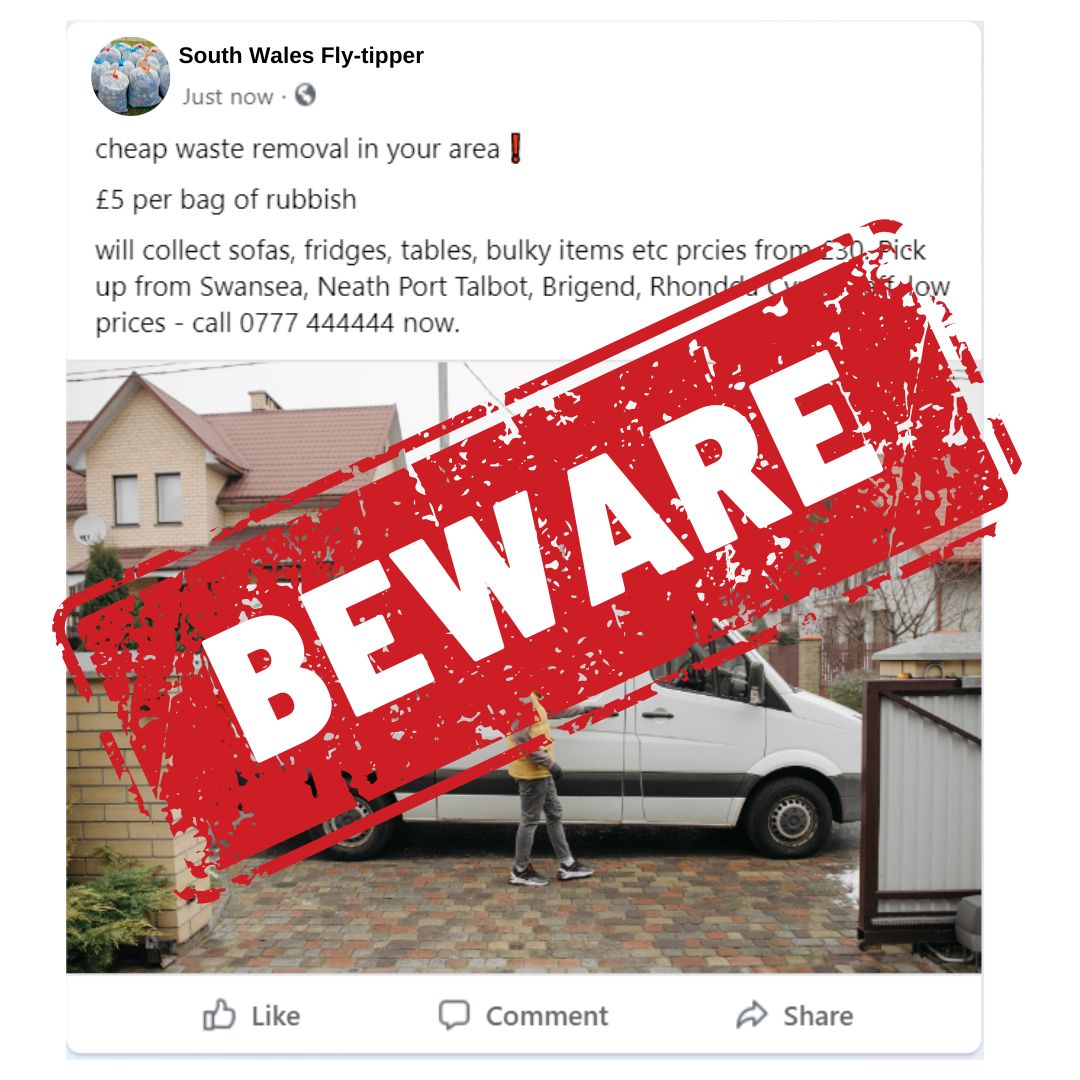 4. Ask your waste carrier questions BEFORE you accept a quote on Facebook
A registered waste carrier's licence number begins with CBDU and ends with 1 to 6 numbers. Legitimate and responsible waste carriers will be happy to provide you with this information in their advert or upon request.
Always take a picture of the waste carrier number or jot it down, just in case your waste is fly-tipped and the council come knocking on your door - you will be able to prove you followed your Duty of Care, even if the waste carrier did not.
It is better to make this check before booking a service to avoid having to ask when the waste operator arrive at your home.
5. Take note of vehicle registration numbers
Always record the registration number of a vehicle used to take your waste away. If waste is found fly-tipped and traced back to you, the council will ask for any more information you might have to help them trace the culprits.
If your waste is found fly-tipped, the more evidence you have to prove that you followed your Duty of Care, and took necessary precautions, the better.
6. Consider your other options
Consider other options before paying for an independent waste carrier to take your things away.
You can use your local council's bulky waste removal service, or take your items to the tip, or donate your items to a charity - then you won't have to worry about checking for a licence.
For more information about you Duty of Care and what you can do to help prevent fly-tipping in Wales, visit: https://www.flytippingactionwales.org/en/our-work/campaigns/its-your-duty-to-care
To see average prices for waste removal, see Fly-tipping Action Wales website here.